Thursday, November 7, 2019 / by Nick Arndorfer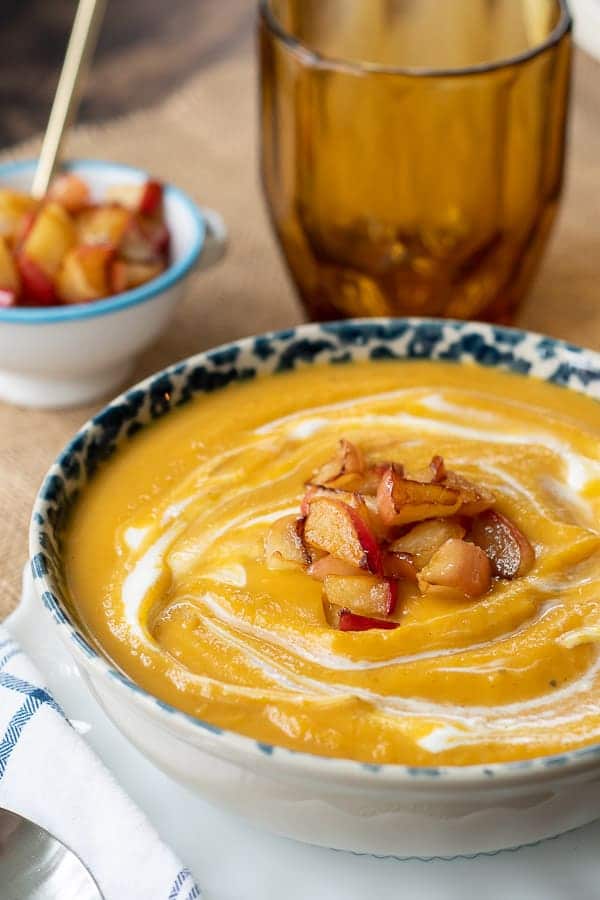 (Image Source)

Today, we have a wonderful roasted butternut squash soup recipe that offers everything you're looking for in a cozy, autumn-flavored bowl of warm goodness! PRG's front office administrator Teri Wood shares this easy soup that's deliciously creamy and just perfect for fall.
Teri's Roasted Butternut Squash Soup
Ingredients
2 small whole butternut squash, halved lengthwise and seeds removed
3 tablespoons butter, divided
2 medium apples, divided
1/2 medium onion, chopped
8 fresh sage leaves (or 1 teaspoon dried sage)
2 cups chicken broth
1 cup apple cider (can substitute apple juice)
2 cups water
1/2 tablespoon brown sugar
Kosher salt
Freshly ground pepper
Pinch cayenne pepper
1/2 cup heavy cream
Yogurt for topping, if desired
Directions
Preheat oven to 425. Place the halved squash on an aluminum foil lined baking sheet. Melt 1 tablespoon of butter and brush over the cut sides of the squash. Season with 1/2 teaspoon of kosher salt and 1/4 teaspoon pepper. Roast for 1 hour to 1 hour 15 minutes, or until squash is very tender all the way through. Set aside to cool enough to handle.
Peel, core, and chop one of the apples. Melt 1 tablespoon butter in a large saucepan and add apple, onion, and sage. Cook, stirring occasionally, about 7 minutes or until softened. Remove from heat.
When squash is cool enough, scoop it out of the skins and add to the large saucepan with apples and onions. Discard skins. Add the broth, cider, water, brown sugar, 1/2 teaspoon kosher salt, 1/4 teaspoon pepper, and a pinch of cayenne pepper.
Bring to a boil over medium-high heat, breaking up chunks of squash. Reduce heat and simmer uncovered, stirring occasionally, about 15 minutes. Remove pan from heat and stir in heavy cream. Using an immersion blender, blend soup in pan until smooth. Taste and adjust seasoning with more salt, if necessary.
Sautéed Apples:
Core and chop remaining apple. Melt 1 tablespoon butter in skillet and sauté chopped apple 7 to 9 minutes, stirring occasionally, until golden and soft. Top soup with yogurt and sautéed apples.
Thanks, Teri! It's safe to say we could all use some warm soup right about now and this might hit the spot for a lot of us!
---